Boston, MA – February 2nd, 2022 TMT focused research and consulting firm ATLANTIC-ACM introduced its Business Connectivity Report Card survey in 2006 to offer competitive customer experience benchmarking to carriers, as well as, insights on shifting purchase dynamics and buying priorities for Enterprise Voice and Data services.
One of the key focus areas of this year's survey included assessing the impact of COVID-19 on enterprise networking practices. Enabling "Remote Access and Virtual Desktop" was the top networking priority going forward, with 39% of respondents reporting an increased focus, closely followed by "Cost Reduction" (30% report increased focus) and  "Moving to Cloud-based Security" (27%) (Chart 1).
Chart 1: COVID-19 Impact on Internet / Networking Focus (% of Survey Respondents)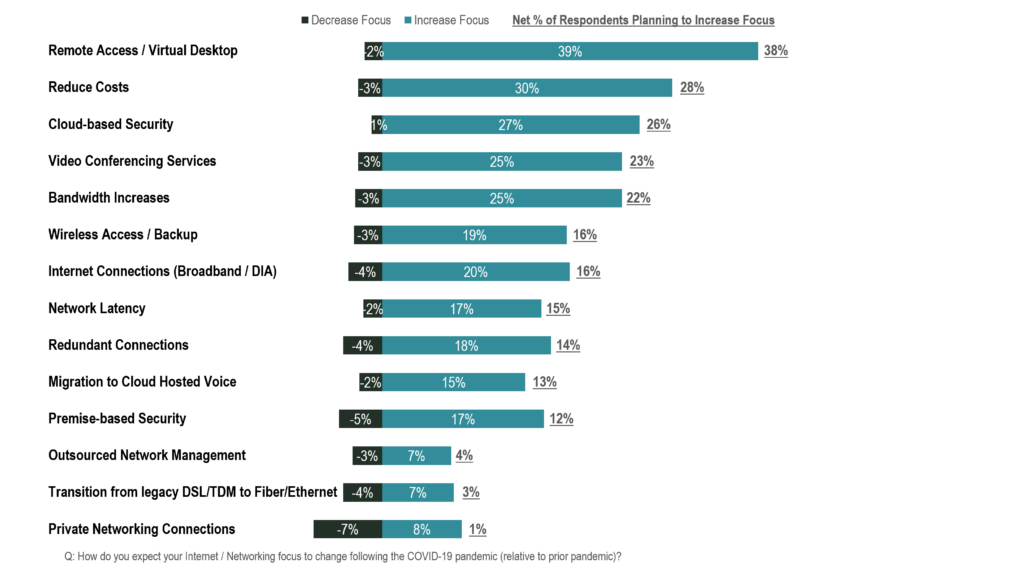 Migration to Cloud-based solutions will accelerate as more businesses adopt hybrid work environments and a greater portion of employees work remotely, even post-pandemic. Survey results show that more than 60% of respondents expected to work remotely in 2022 and beyond across organizations of varied sizes (Chart 2).
Chart 2: Percentage of Respondents Working from Home by Employee Group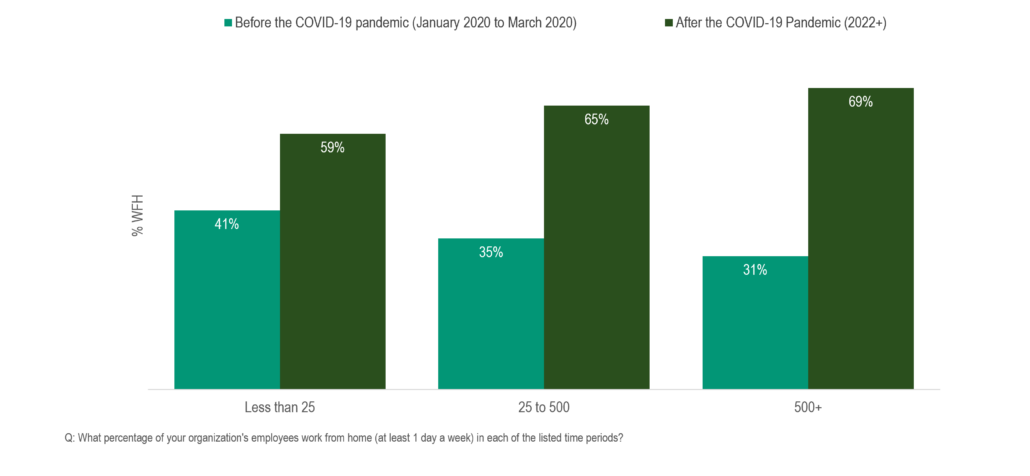 Greater bandwidth availability as well as improved routing/optimization software within SD-WAN, will also drive the adoption of Cloud-based solutions. During COVID-19, fewer buyers adjusted spending, but going forward more growth is expected particularly for Wireless Internet, SD-WAN, Managed Services, and DIA. Respondents indicated continued plans to decrease spend on and/or migrate away from Legacy Voice and IP VPN / MPLS in favor of more cost effective and higher capacity VoIP, Ethernet, Wireless Internet, and SD-WAN services.
SD-WAN traction will take off as buyers increasingly migrate from IP VPN to SD-WAN with Internet Access. Adoption is expected to be highest among businesses with 1,000+ employees, with 68% of respondents indicating that their either "Currently Purchase" or "Plan to Purchase" SD-WAN over the next 12 months. Security, simplified network management, and performance improvements were most often ranked as #1 drivers of SD-WAN adoption.
Other trends pinpointed by survey results included those around buying priorities. Network Performance, Security, and Price continue to be the most important buying considerations for enterprise and SMB customers, while Customer facing operations such as Sales Reps and Ease of Doing Business serve to differentiate providers in a highly commoditized market.